Although Euphoria Mobility's roots are in the Netherlands, we now provide companies around the world with smart mobility solutions. We do this in Ajman, for example. Together with our partner Dubai Technology, we have already equipped more than 2,100 vehicles in this emirate. A great achievement that we would love to tell you more about!
Ajman is one of the seven emirates of the United Arab Emirates. The capital of the emirate is also called Ajman and has about 490,035 (measured in 2017) inhabitants. The emirate is located about 30 kilometres north of Dubai and is the smallest emirate with its 260 square kilometres. Its main sources of income is the shipping industry and therefore has a large shipyard.
Licences
In Ajman and the other Emirates, the taxi market is regulated by licenses. These taxi licences are leased by taxi companies and bids must be made for them. To be allowed to bid for the licences at all, your company must meet all sorts of strict requirements, including the presence of a taximeter solution in all vehicles.
Tender
In 2020, the government in Ajman decided that it was important that every vehicle was equipped with the same taximeter solution and software. Therefore they issued a tender in the same year. We responded to this tender together with our partner Dubai Technology. After an extensive selection process, we were allowed to equip the 2,100 taxis with our hardware.
Award
Because we won the tender and it all had to be done quickly, we fitted out all the vehicles with our equipment in just three months. This was a huge operation, which we were ultimately able to bring to a successful ending. So successful, in fact, that our biggest customer in Ajman, Platinum Taxi, presented our CEO Leon van Lier with a special award as a token of appreciation.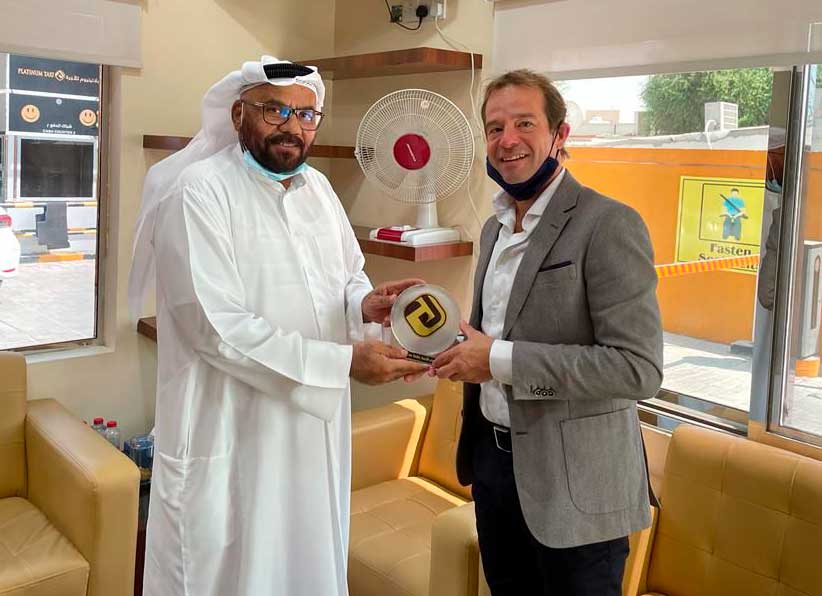 Fujairah
Besides the fact that we have equipped 2.100 vehicles in Ajman with our equipment and the software of Dubai Technlogy, we are also expanding in Fujairah. In this emirate, two hundred vehicles are now driving around with our data terminal.